From the Opera House to the Harbour Bridge, there are a number of iconic tourist spots in Sydney that one just cannot miss out. Australia is known to be an impeccable blend of both exhilarating and easy-going experiences. There is so much that you can explore in Australia. Whether you are here for the scenic beauty the country offers or for the exotic and diverse flora and fauna, Australia is bound to amaze you. And if you wish to make the most of your trip to Sydney, Australia, here are a few hotels that you should not miss:
Hilton Sydney
Nestled in the heart of the CBD (Central Business District), Hilton Sydney is located just adjacent to the magnificent Romanesque Revival Queen Victoria building.  If you are planning on a relaxing holiday, this is the right place for you! With a 25-metre pool, a well-equipped gym, and even a hair salon, you can get transform yourself head-to-toe. You should also get a rejuvenating session at the Alysium Day Spa. With such a wide range of treatments, hot stone massages and green coffee body-wraps, you will be able to experience utter bliss! And before this, do not forget to true celebrity chef Luke Mangan's truffle olive oil that can enhance the taste of almost anything. A bottle of Luke Mangan's signature Shiraz is velvety smooth does the trick as well!
InterContinental Sydney       
This four-and-a-half-pearl hotel was established around Sydney's historic 1851 treasury building. The  InterContinental Sydney features a chic-looking four-story lobby which was once its central courtyard. Located just a block away from the harbour, between the Circular Quay and Botanical Gardens, the hotel offers some of the most stunning views. There are more than 500 rooms which means you will be spoilt for choices here. Not to mention, its exceptional amenities and six amazing restaurants and bars. And to keep you busy, there is also an indoor pool, a fitness area, and a soothing spa.
Novotel Manly Pacific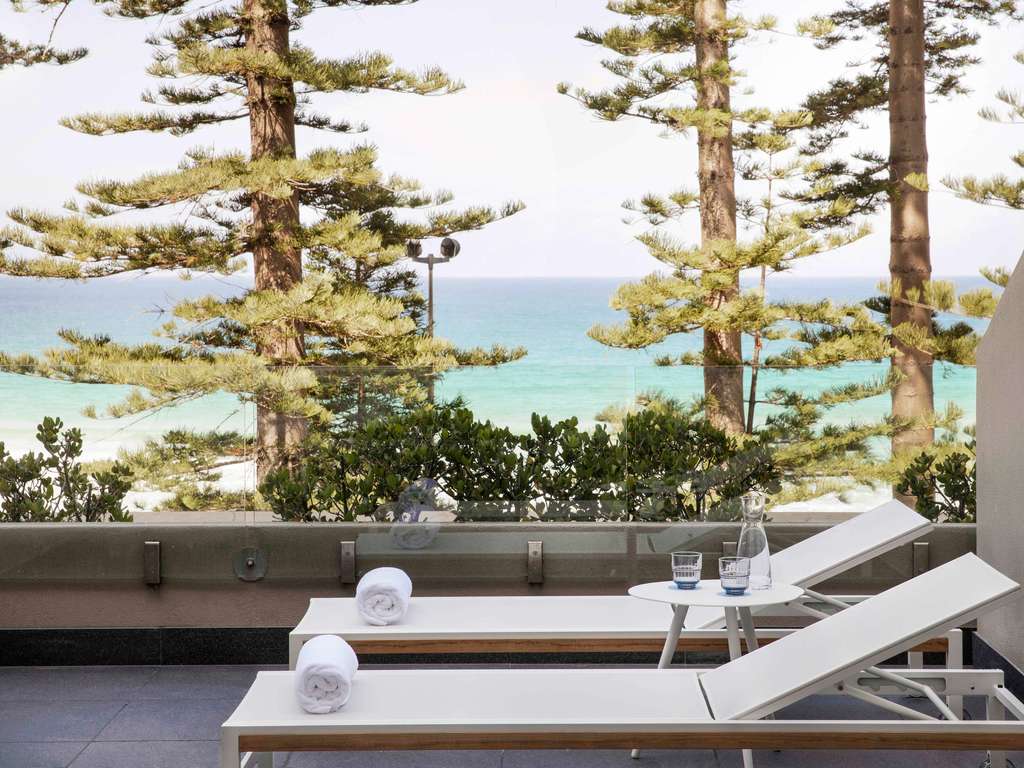 This upscale hotel offering more than 200 rooms will leave you spellbound! Nestled on a beachside location, the hotel offers plenty of meeting space as well. So, whether you are here for work, leisure, or relaxation, Novotel Sydney Manly Pacific will not disappoint you. Located right across the Northern Sydney's Manly Beach, it offers you a great spot to explore the city all by your own. But if you are someone who likes to stay indoors, the in-house gym, yoga studio, rooftop pool and whirlpool would keep you entertained.
Crowne Plaza Coogee Beach
Live the bougee life at the Coogee Beach! And there is no better way other than staying at the Crowne Plaza Sydney Coogee Beach. Owing to its strategic location, the vistas from your room would be mesmerising. You can wake up with the rise sun, or look at the stunning sunset from your balcony! Some of the most amazing amenities here are the secure undercover parking, heated outdoor poor, well-equipped gymnasium, and an on-site tennis court!
InterContinental Sydney Double Bay
What could be better than a stay at a five-star hotel located on the bayside suburb of Double Bay! That is exactly what InterContinental Sydney Double Bay offers you. This upmarket hotel offers you extravagant and capacious rooms with views of the harbour. There is also a swish rooftop pool and a bar offering some of the most flavourful cocktails. And of course, the area is dotted with some high-end dining options and expensive boutiques!
These are some of the most amazing and popular hotels in Sydney that will make your stay a lot better and comfortable. So, pack up your backs and get ready to explore Sydney! And we are sure that with a stay at any of these hotels, your sojourn would be a remarkable one. And while you are there, do not forget to visit some of the places that are exclusively hand-picked by us. We have also ensured that your travel is as convenient as it can get. So, you should also have a look at the various travel essentials. One of the must-haves is definitely our sleek water bottle that will fit in almost anywhere! We hope that this information will help your witness Sydney and its true beauty and you will come home with some amazing memories that you will cherish for many many years to come.