6 Fun Things to Do on Gandhi Jayanti
Children of today barely know about Gandhiji. The best way to introduce the Father of the Country, Mahatma Gandhi, is Gandhi Jayanti, which commemorates Mohandas Karamchand Gandhi's birthday. The day is also intended to honor his role in the fight for independence in India. Why not include your kids in activities that help in understanding the message of tolerance, non-violence, and his unwavering respect for reality from Gandhiji?
Build some fun games, have some ideas for dress-up, or do something that will make the day interesting for kids, and inspire them to learn more about Gandhiji as well. Re-capture some crucial moments from the life of the Mahatma and recreate them. In reality, this is a great opportunity to use these examples to show your kids why it is necessary to expand their beliefs and values.
Here are a few things you could do with your kid:
Just dress up as Mahatma Gandhi
The most enduring attribute of Gandhiji was his elegance, as expressed in his speech and clothing. So, give your kids the chance to dress up like Mahatma. You can help older kids wear dhotis and younger kids can wear ready-made white dhotis. Wrap the body in a long, white cloth, the way Gandhiji used to do. The best approach is to simply use a skin-colored swim cap to get the 'bald' look.
Visiting a Museum
A museum is a good place to let kids see, read, and appreciate our history and the fight for independence. There will also be a clear section on Gandhiji and his life for any museum in India that displays incidents of Indian independence. Make an attempt to find out if the museum has an immersive segment or films and videos documenting the struggle for independence in India. This will allow children to better understand Gandhiji's position and the sacrifices he unstintingly made for the country. Organize a quick quiz or hold a family conversation about the visit once you get back home. Find out in their own lives what your kids have learned and what takeaways they want to adopt.
Consider introducing the charkha and khadi to them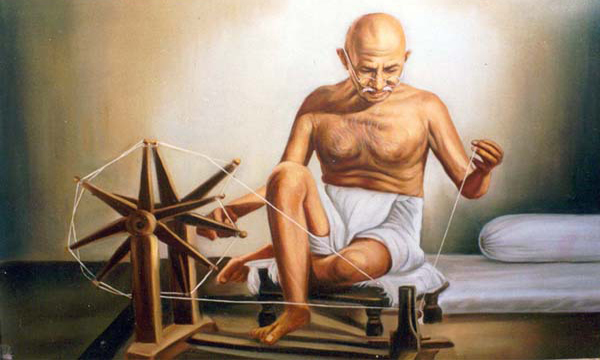 Kids who look up too much to fashion these days will be oblivious of the charkha (spinning wheel) and have no idea what khadi fabric means, as well. So, take them to the charkha and how to spin fibers into yarn using it. Speak about how the charkha was used to symbolize self-reliance by Gandhiji. Therefore, it played an important role in the struggle for independence in India. Describe how spinning the charkha was a big source of livelihood in the villages. Even, don't forget to tell them that not only are khadi fabrics eco-friendly, but they also come in beautiful shades today.
Creating arts and crafts
Kids are fond of painting and crafts. For Gandhi Jayanti, some fun crafts they can do include drawing an image of Gandhiji, painting a spinning wheel, making the motif of the three monkeys, etc. Apart from art, using colored chart paper, pencil and eraser, child-friendly scissors, and glue, you could also let your kids make DIY monkeys and 'Gandhi glasses.' Using creative copper wire, ice cream sticks, glue, and twine, older kids should try their hands at making a 3D spinning wheel.
Speak about three monkeys of Gandhiji
This is a token of the ideology and ideals of Gandhiji's life. 'See no evil, hear no evil, and say no evil' stands for the three monkeys. A statue of the Three Wise Monkeys, a visual symbol for his message of peace and tolerance, is said to have been owned by Gandhiji. By turning this into a game that can be played by children of all ages, you can make it feel more genuine. It is better to play with a group of kids.
Room-cleaning and night of movies
Gandhiji said, 'Next to godliness is cleanliness. Use the opportunity to make your kids more responsible by getting them to clean their rooms. Tell them that Gandhiji made his ideology an integral part of cleanliness and sanitation. Teach them that for physical well-being and for a healthier atmosphere, cleanliness is important.
You should relax and watch films together, as a family, once all the activities are done. Pick films that deal with the themes that played a crucial role in the life of Gandhiji. Here are some suggestions for movies: Gandhi, Lage Raho Munna Bhai, Bajrangi Bhaijaan, Lagaan, and Swadesh.
In India's freedom struggle, Gandhiji played a significant role. Also, during his lifetime, he inspired millions of Indians. Still today, his existence, his ideals, and his comprehensive literary output have had an immense effect on individuals in our country and around the world as well. Use the day to make Gandhiji come alive for your kids as an opportunity.