Diwali Celebrations in Different Parts of India
India is a diverse country. Every region has its own traditions, beliefs, languages, and religions. But there are a few things that bind all us Indians together. And Diwali, being one of the most auspicious festivals in India it is celebrated all across the country with a lot of zeal and joy. Diwali is known to be one of the most awaited festivals in India. Everyone is looking forward to this day and starts the preparation weeks back.
While everyone celebrates this occasion as one of the most special ones, different regions commemorate this day in their own way. Based on their unique beliefs and traditions, Diwali celebrations may vary from region to region. So, if you are curious to find out how people all across the nation participate in the festivities of this day, read on to unravel some amazing tales:
North India
Northern India celebrates Diwali with utmost zeal and enthusiasm. This day celebrates the return of Lord Rama to Ayodhya with his wife Sita and brother Laxmana. Since He returned after 14 years of exile, the day is meant to welcome him and celebrate the victory of good over evil. Initially, the people of Ayodhya used to light up the entire kingdom with diyas. Hence, this day came to be known as the festival of lights. And even after centuries later, this day is still celebrated by everyone to continue the tradition and remembering the epic tale of Lord Rama. Punjab, Uttar Pradesh, Haryana, Himachal Pradesh, and Bihar are the major regions that can be seen all decked up with diyas and fairy lights. It is truly a sight to behold.
East India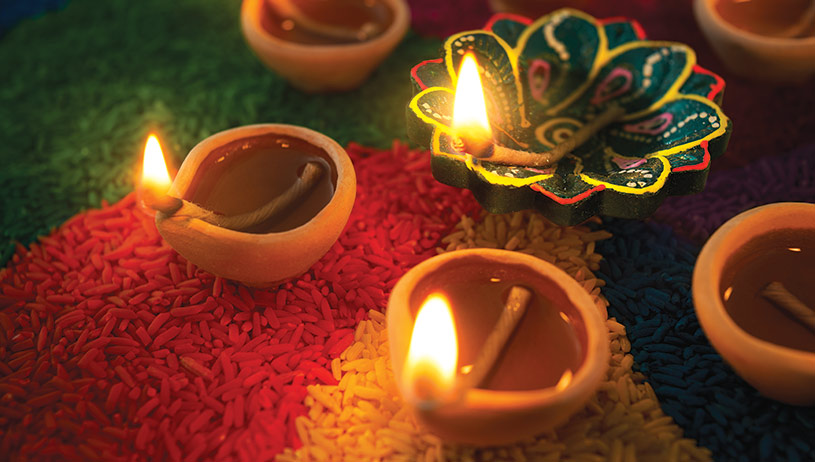 As compared to the northern part of the country, the eastern regions also possess similar beliefs and traditions. While we see people in West Bengal, Odisha, and Assam light diyas, lamps, candles and burst crackers, they also worship Goddess Laxmi – the Goddess of wealth and prosperity to celebrate the festival of Diwali. Locals tend to keep their doors open on this day for Goddess Laxmi to enter their abode and bless them. People also ensure that their house is spotless. They decorate their house  in a nice manner to ensure that Goddess Laxmi blesses them with wealth and prosperity.
West India
Coming to the western regions of India, we tend to find a few unique traditions followed here. This is because Diwali celebrations start off a few days before the actual festival begins. The marketplace is witnessed to be one of the most happening places during this time. This is probably one of the best places in India for a shopper. One can come across amazing and vibrant rangoli designs in front of people's homes. People also draw footprints along with rangoli designs in front of their houses to welcome Goddess Laxmi in their house. In this region, you can witness women performing Aarti for cows and their calves on the very first day of the Diwali celebrations. This signifies the love between a mother and her child. You can come across these wonderful glimpses in Gujarat and Maharashtra that follow these rituals ardently.
South India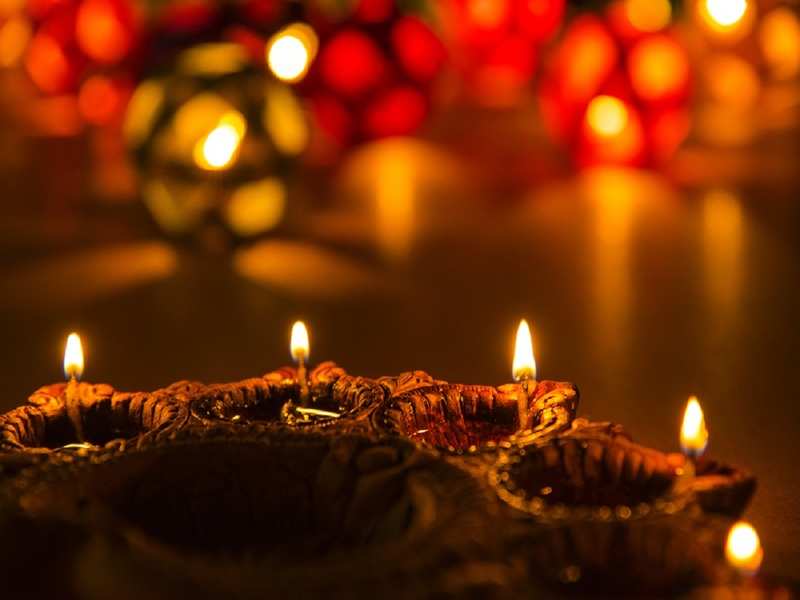 South India celebrates the Diwali in its own peculiar way. The Tamil month known as 'aippasi' commemorates the festival on Diwali. The celebrations begin on the 'Naraka Chaturdasi' tithi. 'Naraka Chaturdashi' is the day which commemorates the festival of Diwali. On this special day, people clean their homes and deck them up with Kolam designs. These designs are quite similar to that of the Rangoli designs created in the homes of the western part of India. Also, women make forts out of cow dung. This is considered to be quite auspicious and fortunate. Other than this, the men take an oil bath owing to a belief. According to this belief, Lord Krishna took an oil bath to remove blood stains from his body after killing Narakasura (an asura king).
So, yes this was majorly how India celebrates the festival of Diwali in its own unique and traditional ways. But no matter how you wish to celebrate Diwali, all you need to ensure that you do it with utmost love and respect towards your friends and family members. As long as you have good intentions, you will be able to celebrate this day in the best way possible.
Also, if you are planning to celebrate Diwali with your loved ones, you should get some Diwali gifts and sweets for them. And these days it is quite easy to find some nice presents online and even order sweets from an online gifting portal. I hope this helps you get a better idea of this festival. Wishing you and your family a very happy Diwali.