Unique Raksha Bandhan Gifts For Brother
Only siblings can understand and appreciate the special and unique bond they share with each other. And Raksha Bandhan is the day you can actually express it. No matter how much they fight or tease each other, they can still sense the love and concern they have for one another. They do not even need to say it out loud, they just know it. But that can also be a disadvantage as well. As kids, you might play around the house and create a chaos for your parents. There might be some memorable moments, some theatrical dramas, some ugly fights, some teasing and leg-pulling, but more than anything else, there was definitely a lot of love. This love knew no limits and no language. And this is the reason why siblings cannot express their feelings to each other.
We understand that siblings would not always be super expressive about their feelings to each other. But sometimes you got to convey the affection you carry in your heart for them. This is the reason why we have curated a bunch of gifts. These are some Raksha Bandhan presents that you can gift your brother and you can simply speak your heart out to them:
A Thoughtful Greeting Card
There are moments when you wish to pour your emotions out. You want to let your sibling know how much they mean to you. But you might not be able to say it out loud. And if you are looking for a medium that can help you express your truest emotions to your brother, you should go for a greeting card. The best thing about this present is that you can simply jot down your emotions. You can simply write a poem that helps you convey your feelings in a better way. Now, all you need is that you have to present this lovely piece to your brother and see his priceless reaction. And we are sure, that is the only thing that you are looking for when planning a Rakhi present for your brother.
A Special Rakhi
Coming to one of the major elements of this day, you need to be sure that your Rakhi is as special as your bond with your brother. And while we know that your brother would be happy even with strand of fabric tied by you across his wrist, you should put in a little effort and thought while picking a Rakhi for your brother. After all, it is the tiniest of details that matter. And we are sure that with just a glimpse of your unique Rakhi, your brother would feel so special and lucky to have sister like you. Also, if you wish to make your Rakhi extraordinary, you can even get customized Rakhi. These days, you can get photo Rakhis and even name engraved Rakhis that will make sure that your Raksha Bandhan celebrations are as remarkable as ever.
Tasty Delights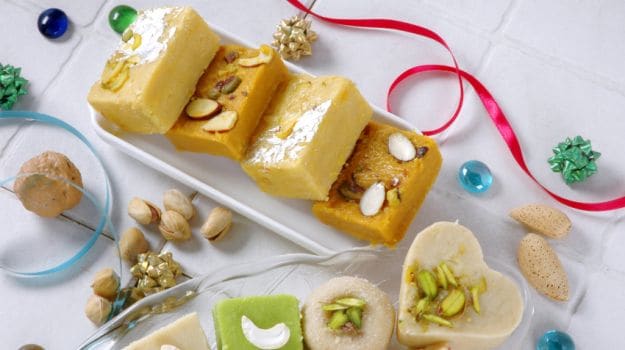 We are sure that you have a lot in your mind as to what you will serve your brother this Raksha Bandhan. And since this is one of the most auspicious days, you should have a few sweets and desserts. Not only this will add a lot of flavour to the day, but these will also ensure that you have something to complete the ceremonies with. While you can cook something yourself, you can save some time and effort by getting delivered to your doorstep. You can use this time to sit and spend time with your brother. After all, Raksha Bandhan is all about you two and you should spend each moment of this together.
Get Him Some Accessories
We are sure that your brother is no less than a handsome stud. But on this day, you should make sure he looks it absolute best. And for this, you can get him some stylish and chic accessories that he can pair with his stunning attire. This will make sure that you brother sports a dapper look on this special day. You can consider gifting him a nice wallet, a chic belt, a hi-tch watch, a stylish tie, or a sparkly broch. We are sure that your brother would be really happy to get these things as presents, especially from her sweet little sister. And while he would be the most good-looking guy in the room, be sure you are looking as gracious as well.
Siblings are the greatest blessings and if you have one or more, consider yourself lucky. And be sure that this Raksha Bandhan you are able to convey your emotions to them in the most amazing way. We hope that these unique and extraordinary gifts ideas will help you speak your heart out and help you enjoy this year's Raksha Bandhan celebration to the fullest.