Treat Your Sister with These Thoughtful Raksha Bandhan Gifts
One of the most unique and special bonds is the bond shared by a brother and a sister. And we should be grateful that we can witness this bond in its utter glory on the day of Raksha Bandhan. On this auspicious day, the siblings reinforce their love for each other which strengthens their bond in order to fight against any hardship successfully that may come along their way. Also, with the tying of the sacred knot the brother vows to protect her sister through all such adversities while the sister prays for his health and well-being. Other than this, if your sister is blessed with a lovely Bhabhi, she would definitely want to tie a Rakhi to her bhaiya and bhabhi and seek their blessings.
The piousness and chastity of this relationship cannot be described in words. Thus, a sibling can always opt for unique gift ideas to express their love and affection to each other. While there is a wide variety of gifts available, there is also a lot of options in Rakhi to choose from. Your sister can opt for personalised Rakhi, cartoon Rakhi, pearl Rakhi, kundan Rakhi, or even silver Rakhi. But if you are looking some amazing gifts for your beloved sister, we have got you covered. Here are some unique presents that are bound to make your sister's day all the more special:
Jewellery Pieces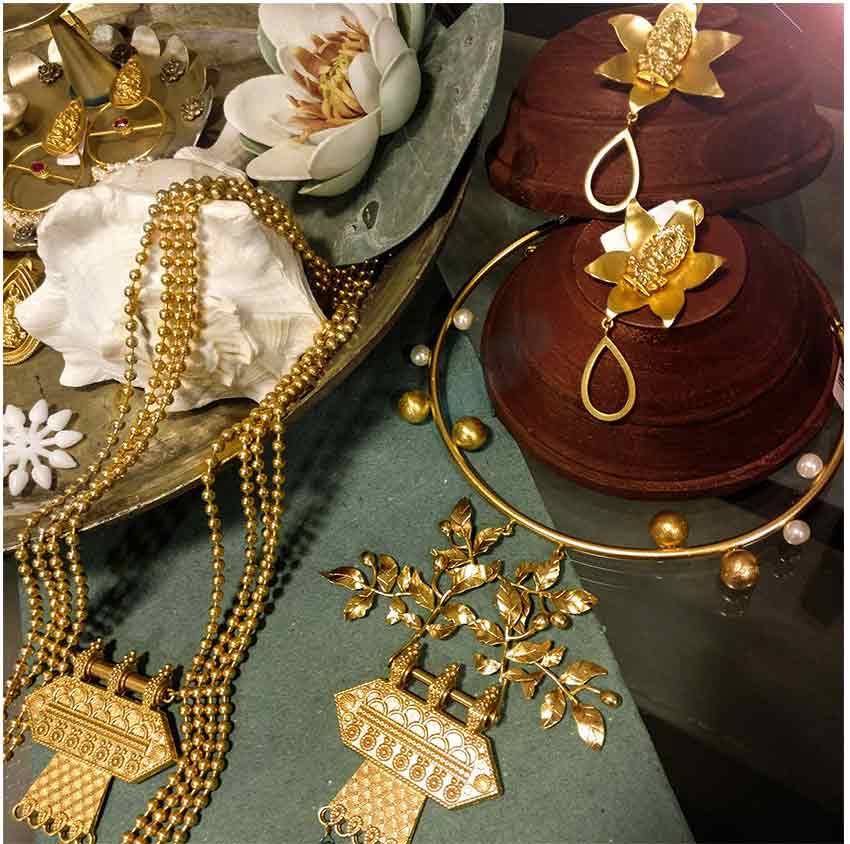 Now, you do not have to get your sister authentic jewels if you are on a budget. Because to be honest, it is the thought that matters rather than the luxuriousness of the present. And you would already know that every girl loves to get jewels as presents. As a kid she would dress up as a princess and that is when she first got introduced to those sparkly trinkets. And on this special occasion, you would definitely want your sister to recreate those looks and appear her best. And to make sure that your sister looks nothing less than a fairy on this day, you need to pick up the finest jewellery pieces that accent her look and complement her style. You can go for bracelets, earrings, pendants, necklaces, or even tiaras. We are sure that this will surely brighten up her day!
Sweets and Chocolates
Other than those flashy ornaments, girls love another thing very dearly. Yes, those are chocolates. You can never go wrong with a bunch of candies and chocolates as Raksha Bandhan gifts for your sister. We are sure that your sister would definitely have a sweet tooth. And as a brother you ought to satisfy your sister's chocolate cravings. Other than this, as a part of the Raksha Bandhan ceremony, siblings should sweeten each other's mouth. This gives you another reason to present your litter sister with a bunch of sweets, chocolates, and even cupcakes. We are sure that this will add up to the flavour of this day and put a huge smile on your little sister's face.
Stuffed Toys
If you have a little sister, this makes for a perfect present. But this is also a great gift for your elder sister. This will surely take her down the memory lane. She would be able to reminisce the older times when she used to play with a huggable as a kid. And to help her re-live those childhood moments and to bring out her inner child is probably the best present you can give her on this special day. Also, soft toys are one of the most amazing gifts of all times. A great huggable toy will ensure that your sister always has someone whom she can hug whenever she feels lonely or sad.
Photo Frames
As brothers and sisters, we are sure that you would have more than a zillion pictures with each other. And with each picture telling its own tale, we are sure they deserve much more than being kept in a photo album. We are sure all your pictures would be amazing. But now it is time to pick the best ones and get them framed. This is how you will be able to see them every day and reminisce the old times. If you wish you can also get these picture prints on your gifts like a coffee mug, cushion, or t-shirts. This will make it all the special and thoughtful.
Rakhi is such a special occasion. And with so many gift options, we are sure that you will be able to surprise your sister in the best way possible. We hope that you will be able to pick the ones that will put a smile on her face. But will also help you convey your love towards her in the most effortless manner. Happy Raksha Bandhan!